MEDA Entrepreneur of the Year reboots tech company StarTribune – June 1, 2014
Article by:  TODD NELSON, Special to the Star Tribune  
Photo Courtesy of:  Steve Silverman Imaging 
Elise Hernandez, president and CEO of Ideal System Solutions, Inc. worked with Minneapolis nonprofit MEDA to transform her company.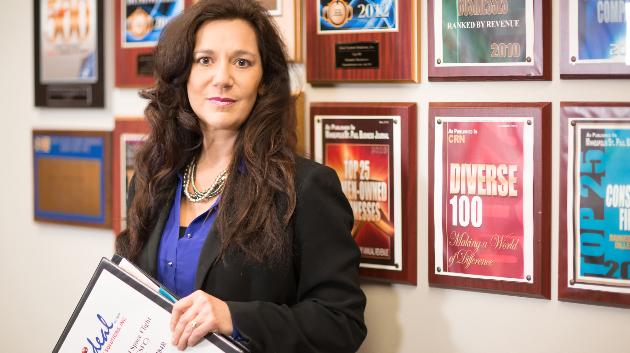 Elise Hernandez, president and CEO of Ideal System Solutions, attributes her company's growth in no small part to strategic advice from the Metropolitan Economic Development Association (MEDA), a Minneapolis nonprofit.
Revenue, employment and profits all have grown, Hernandez said, since she began working closely with MEDA, which offers business consulting, financing, leadership development and other services to minority entrepreneurs.
The only change Hernandez would make would be to have turned to MEDA even earlier once she determined she was "ready to take my company to the next level."
That's a message she's likely to share as she is recognized as MEDA's 2013 Entrepreneur of the Year at the organization's annual recognition luncheon on Wednesday.
"It is such a huge honor to receive this award on behalf of my company," Hernandez said in a recent interview. "If I had to do it over, I would have reached out to an organization like MEDA from the start.''
Hernandez and her husband founded Ideal System Solutions in 1997 as a value-added reseller of products from Hewlett-Packard, Cisco and IBM, among others. Hernandez is the majority owner, while her husband has had little involvement in the company.
The company, now an integrated tech solutions and services provider, has 32 employees, with headquarters in Pequot Lakes, Minn., and a sales and technical facility in Minnetonka. Clients include businesses, government agencies and educational institutions.
As a woman- and minority-owned company, Ideal System Solutions received certification from the Small Business Administration's 8(a) business development program for small, socially and economically disadvantaged businesses. The nine-year program positioned the company to bid on government contracts, and Hernandez sought assistance from MEDA's government contracting consultants to pursue that business.
Hernandez began assessing her business model as the recession deepened and margins diminished as reselling evolved into a competitive commodity business.
"We decided that we needed to become a true integrated technology solutions and services provider," Hernandez said. "Instead of just selling the product, we're going to be the ones that can design it, integrate it, implement it and support it."
Pacesetter invitation
Hernandez began working more closely with MEDA to transform her business, leading to a 2011 invitation to MEDA's Pacesetter program, its three-year, flagship curriculum for leadership development.
With MEDA's assistance, Ideal System Solutions acquired two smaller companies to add consulting and communications expertise to its offerings.
"When we sat down with MEDA, we said our goal is to become a best-in-class technology solutions provider," said Hernandez, who as Entrepreneur of the Year will join MEDA's board of directors.
Edgardo Rodriguez, Hernandez's business consultant at MEDA, said the organization helped accelerate Hernandez's success.
"She was successful before she came to MEDA but she had grown to the point that to be able to grow further she needed some help,'' Rodriguez said. "She said in three to five years she wanted to be best-in-class in everything. She wanted to create value in the company and value beyond her."
Hernandez and Ideal System Solutions exemplify the established, growing companies that MEDA hopes to work with more often, Rodriguez said.
Hernandez was determined to "go to college and make a better life" after growing up as one of four children in a single-parent home. Working full time and receiving scholarships and grants, Hernandez earned a bachelor's degree from the University of Minnesota and an MBA in management from Metropolitan State University.
"My thesis for my master's program was my business plan," said Hernandez, then working for a tech company. "I had all these ideas and there were things I felt I could do better to grow an organization, so why shouldn't it be my own organization?"
MEDA highlights
MEDA (www.meda.net) has helped launch more than 490 enterprises since business and community leaders founded the organization in 1971. It has served more than 19,400 clients and secured more than $140 million in financing for minority-owned businesses. MEDA's annual survey reported that the minority business community it serves represents $1.3 billion in annual revenue and employs more than 6,100 Minnesotans, about 42 percent of them minorities.
Todd Nelson is a freelance writer in Woodbury.