Woman-owned business earns top honors in technology | Brainerd Dispatch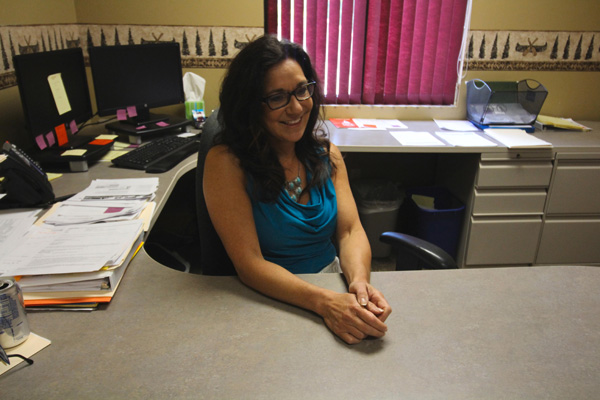 Ever-changing and fast-paced is the world of technology. Individuals and businesses alike strive to keep up with the constant advancements.
Elise Hernandez McGuire's commitment to technology goes a little further. As owner of Ideal System Solutions Inc. in Pequot Lakes, technology is her business.
For almost 20 years, Ideal System Solutions has provided infrastructure technology solutions to government and commercial organizations nationwide.
"The infrastructure might be the systems, the desktop, the data center, the network," Hernandez said. "We may design, implement and support the entire solution or just a component of the solution."
Hernandez's longtime interest in technology led her to pursue a bachelor's degree in business, psychology and Spanish from the University of Minnesota-Twin Cities and a Master of Business Administration degree in management and marketing from Metropolitan State University.
I've always been in the technology industry since right out of high school," she said. "So technology has been part of my lift since I first started in my career."
Though she originally wanted to become a lawyer, Hernandez began working at technology companies after high school and college. The diversity of the field piqued her interest and led her to where she is today.
"There's a lot of opportunities," she said. "It's very dynamic, and there's a lot of places you can go within technology. There's a lot of different things you can do."
With offices in Pequot Lakes and Minnetonka and remote locations around the country, Ideal System Solutions is a growing company that Hernandez and her husband, John McGuire, started in their Pine River home after Hernandez wrote the business plan as a part of the graduation requirement for her master's degree.
"After I wrote the business plan, I just decided, why not?" Hernandez said. "I've already done all of my homework, and the plan was in place, so (we) decided to start the company. So we officially opened January of 1997."
The company office in Pequot Lakes opened in 2008 after the company grew too big to run out of Hernandez's house. Since she is originally from the Minneapolis area, there has always been an office in the Twin Cities. It was Hernandez's husband who led her north to the Brainerd lakes area.
"We were both in the technology industry together. We worked with the same company, and in 1995, I came up here and visited the area," she said. "(I) fell in love with it, fell in love with him, and still here."
As the company has grown, so has its recognition in the business world. Ideal System Solutions' long list of honors includes spots in DiversityBusiness.com's Top 500 Women Owned Businesses in the U.S.l and Top 50 Women Owned Businesses in Minnesota from 2003-2016, but they don't stop there.
Earlier this year, Hernandez was inducted in the Minnesota Women Business Owners Hall of Fame, an award she was "very humbled and very honored" to receive.
"Some of the other awardees were absolutely incredible- their backgrounds, their stories, the caliber of women that were selected," Hernandez said. "I'm just honored to be part of such a distinguished group of women."
As for her business' other achievements, Hernandez knows she alone cannot take credit for all the success.
"Mostly these awards are for the company," she said. "This company has been built on a team effort. It's not about me and me winning the awards. It's about the organization winning the awards. And I just have a really great team of people that make those awards possible."
Though the company's achievements are important for Hernandez, being able to spend time with her family is the highlight of being a business owner.
"I would say the best part about owning your own company is the flexibility," Hernandez said. "I have two teenage children. They were babies when I started the company, but I've had a lot of flexibility to spend time with them, to participate in their sports, their school activities."
For others who are interested in starting their own business, Hernandez has a few tips.
"There's so many resources out there that you can tap into for people that … want to look into owning a business or entrepreneurship," she said. "Reach out to other people that own companies. Ask a lot of questions; network. And do your research and make sure that it's a viable business plan, and once you determine it is, just go for it."
Fact Box:
Business: Ideal System Solutions, Inc.
City: Pequot Lakes and Minnetonka
Number of employees: 15-18 (in each location)
Interesting or little known fact: Ideal System Solutions was started in Hernandez's home in Pine River.
Honors and achievements
• United States Department of Commerce Minority Business Development Agency MBDA Minority Business Enterprise of the Year Award 2015
• January Entrepreneur of the Month 2016 Minnesota Economic Development Association
• Entrepreneur of the Year Award 2014 Department of Energy
• HUBZone Small Business of the Year – Oak Ridge National Laboratory 2011
• HUBZone Small Business of the Year – Department of Energy 2010 Small Business Administration
• Minnesota Minority Small Business Person of the Year 2007
• SBA Region 5 Small Business Subcontractor of the Year 2008 Harris Corporation
• Harris GCS HUBZone Supplier Excellence Award 2014 Boeing Company
• Boeing Performance Excellence Award 2013 Enterprising Women
• Woman of the Year Award (highest level) 2009 National Association of Women Business Owners
• Minnesota Women Business Owners Hall of Fame 2016
• Minnesota Emerging Women Business Owner of the Year 2008
• Established Woman Award 2009 Twin Cities Business
• 100 People to Know in 2016 The Business Journal
• Women in Business Honoree "Woman to Watch" 2009 Women's Enterprise USA
• Top Women's Business Enterprise List 2008 Minneapolis/St. Paul Business Journal
• Top Minority Business Honoree 2008
• Top IT Consulting Firms 2010
• Top 25 Minority-Owned Businesses 2009, 2010, 2011
• Top 25 Women-Owned Businesses 2010, 2011, 2012 Entrepreneur Magazine
• Top 50 Woman-Owned Companies 2007 DiversityBusiness.com
• Top 500 Diversity Owned Business in the U.S. 2004-2016
• Top 50 Diversity Owned Businesses in Minnesota 2003-2016
• Top 500 Hispanic American Owned Businesses in the U.S. 2003-2016
• Top 500 Women Owned Businesses in the US 2003-2016
• Top 50 Women Owned Businesses in Minnesota 2003-2016
• Top 500 Privately held Businesses in the U.S. 2006-2010
• Top 50 Privately held Businesses in Minnesota 2003-2016 Hispanic Business
• Cover Feature March 2009
• Top 500 Largest Hispanic-Owned Companies in the US 2006-2013
• 100 Fastest-Growing Hispanic Companies in the US 2007-2011 CRN Magazine – Everything Channel
• Tech Elite 250 List 2013
• Elite Power Women of the Channel 2010-2014
• Solution Provider 500 2009-2015
• North America's Top 500 Technology Integrators 2010
• Diverse 100 2010 Government VAR
• Top 25 Leading Minority Solution Providers 2007, 2009, 2010  W2W
• Ascendancy Award for Business Women 2010