As Published in the December 2015 issue of Twin Cities Business Magazine
It's been a mixed year. Productivity is at a near-record high, unemployment is low. But finding qualified labor is getting tougher and tougher, and spending remains modest. With these kinds of challenges, it's important to know who's got the insight, experience and smarts that you'll want to seek out in the year ahead, whether you meet them in person or learn by their example.
It is with this in mind that the editors of Twin Cities Business present our 100 People to Know, or, as we like to call them, the TCB 100, for the year ahead. While many of them lead major organizations and are influential for other reasons, they are not listed here for that reason alone. Rather, they're included because of how they have overcome—or are facing, with courage, creativity and gusto—major challenges, while using their influence to grow Minnesota's economy, and support and even boost its social and cultural attributes.
From those at the top of their industry nationally to "hopefuls" who may one day knock it out of the park, you'll find the people to know in the pages ahead.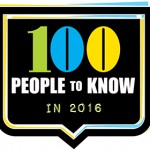 Elise Hernandez just made it big. Her company, Minnetonka-based Ideal Systems Solutions, was one of 65 firms recently awarded a stake in a $20 billion, 10-year federal contract for information technology. The award was the largest ever given to a Minnesota firm owned by a
Hispanic woman. She's in good company—AT&T, Dell, IBM and Hewlett-Packard share in the award. Hernandez expects to nearly double her head count with the new business—from 35 to about 60—and says the award could lead to hundreds of millions in new revenue over the next decade.