Statistics show that on average, over 40% of businesses that do not have a Disaster Recovery Plan go out of business after a major loss like a fire, a break-in, a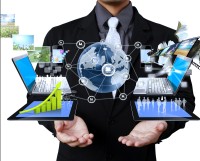 storm, or sabotage.  A Good Plan Increases Your Chances of Recovery.
There is no reason a temporary setback should turn into a permanent failure – if you protect your organization before disaster strikes.  The first step is to create a Disaster Recovery, or Business Continuity Plan.  Ideal System Solutions, Inc. (ISSI) can help you get started right away.  We will put together a comprehensive plan for your entire organization, considering key components crucial to your recovery, and establish a formal process to be followed to restore your business continuity when a disaster occurs.
Your Disaster Recovery Plan will be a comprehensive, step-by-step process for you and your staff to follow, covering such items as contacting your local authorities and insurance carriers, re-establishing phone service, sourcing equipment, restoring data, and all essentials needed to restore your organization's operational capability.
Business Continuity 24/7/365 Emergency Services
Continuity of your business processes is our primary concern.  Our state-of-the-art network monitoring systems automatically alert us to potential problems before they have a chance to escalate to work-stopping outages, allowing our skilled engineers the ability to respond immediately.
No matter when you experience an interruption, we are available when you need us the most, and provide you peace of mind by delivering technical support services 24 hours per day, 7 days a week, and 365 days per year.
To learn more about our Business Continuity/Disaster Recovery solutions contact us at 888-696-1044