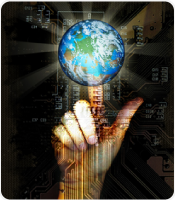 Hosted Email Services
Are unsolicited Spam, viruses and phishing attempts plaguing your organization's in boxes and making it difficult to stay ahead of messaging threats?
How much time do you spend dealing with these issues on a daily basis in your own in box, and what is the real monthly cost of lost productivity to you, were you to multiply that by the number of staff you employ?
Are you concerned about email regulatory compliance? According to the American Management Association, 1 in 5 employers has had their email subpoenaed.
Are your local and remote staff's email challenges affecting productivity, client relationships and profits?
Ideal System Solutions, Inc's Hosted Microsoft Exchange Email Services is an innovative way to leverage hosted technologies and stay ahead of the competition.  Businesses rely on email for reliable communications, and a Hosted MS Exchange Service can offer an intuitive email system that is easy to use and customizable for your individual needs.  By utilizing our Hosted MS Exchange Email Service, we will reliably host and manage your email communications so you don't have to deal with the hassle or the expense.
The services are deployed over the Internet using a Software as a Service(SaaS) model.  Our hosted email solution:
Eliminates virus, spam and phishing threats before they reach your network
Provides email that is always available with an uptime guarantee
Enables rapid recovery from unplanned disasters and network outages
Meets regulatory compliance requirements for email retention and reporting
Delivers a Secure Messaging solution with full email encryption
Improves communications, task management and collaboration between staff and clients
Deploys quickly without up-front capital investment and reduces maintenance costs
But, it is more than just us hosting your Microsoft Exchange email service.  Hosted email solutions allows you to synchronize your email with different devices so you can always have access to the most updated information, whether on your mobile device, or desktop PC.  When you can quickly and easily sync up information this way you can create a collaborative environment which will help your team work together and be more productive.  You can minimize the loss of information and time spent coordinating activities rather than completing projects.  We mitigate messaging risks before they reach your network, reduce email cost and complexity along with up-front capital investments, and help you address your compliance challenges.
Ideal provides the tools you need for reliable company email and collaboration.
SharePoint
Ideal System Solutions, Inc. can provide your staff with the benefits of effortless access to shared company business processes and information.
Add a collaborative approach to content management across all of your business units and improve your organization's effectiveness, efficiencies and net profits.
Get more out of your information
Make better-informed decisions through centralized access to information and improved abilities to locate relevant content; implement comprehensive control over the storage, security, distribution, reuse, and management of documents and other electronic content such as Web pages, PDF files, and e-mail messages; submit work from collaborative sites to portals by using tools that simplify content reuse and publishing.
Streamline your business processes
Accelerate internal and external shared business processes, share business information within and outside of your organization; make business process initiation, participation, tracking, and reporting easy and flexible by providing a simple, consistent user experience through familiar client applications; optimize the way people, content, and processes interact within and across organizations.
To learn more about our Hosted Applications please contact us or call 888-696-1044.