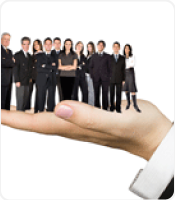 In the "Ideal"World . . . your information technology partner should understand your staff resource needs and help you scale your IT staff to meet changing market demands…

No matter the size of your company, finding reliable resources with the right expertise can be a challenging and costly process. In the ever-changing corporate environments that we find today, we know that projects typically have fluctuating resource needs so it makes good business sense to bring in resources, with the skill sets you need, only when you need them. By using Ideal System Solutions, Inc. (ISSI) Staffing and Placement Solutions, it is our goal to help you recruit and augment your staff and free up internal resources, lower operating costs, and increase operating efficiency.
ISSI understands its role in the staff augmentation process and interviews all applicants using its Resource Planning Methodology (RPM). This is the backbone of our criteria to conduct extensive screening for all potential employees prior to placement. This allows ;your company to maintain focus on its core business while we engage exceptionally skilled technical employees and a large number of exceptionally qualified personnel. Our staff portfolio of candidates include professionals in IT consulting, project support, computer programming, database design and administration, server migration, software development, and networking and security consultants.
You can count on us to:
Find hand-picked, qualified contract employees with the appropriate skills and experience
Trim staff painlessly and economically
Locate highly qualified candidates for permanent hire
Professionally represent your search in a respectable manner
One Call, One Provider, One-Up On The Competition
To learn more about our Staffing Solutions please contact us or call 763-255-1777